A midair collision of two air tour airplanes was caused by "the inherent limitations of the see-and-avoid concept" along with the absence of alerts from both airplanes' traffic display systems, the NTSB concluded.
The two airplanes, a float-equipped DHC-2 Beaver operated by Mountain Air Service and a float-equipped DHC-3 Otter operated by Taquan Air, collided at an altitude of 3,350 feet about eight miles northeast of Ketchikan, Alaska, May 13, 2019. The DHC-2 pilot and four passengers died; the DHC-3 pilot suffered minor injuries, nine passengers were seriously injured, and one passenger died.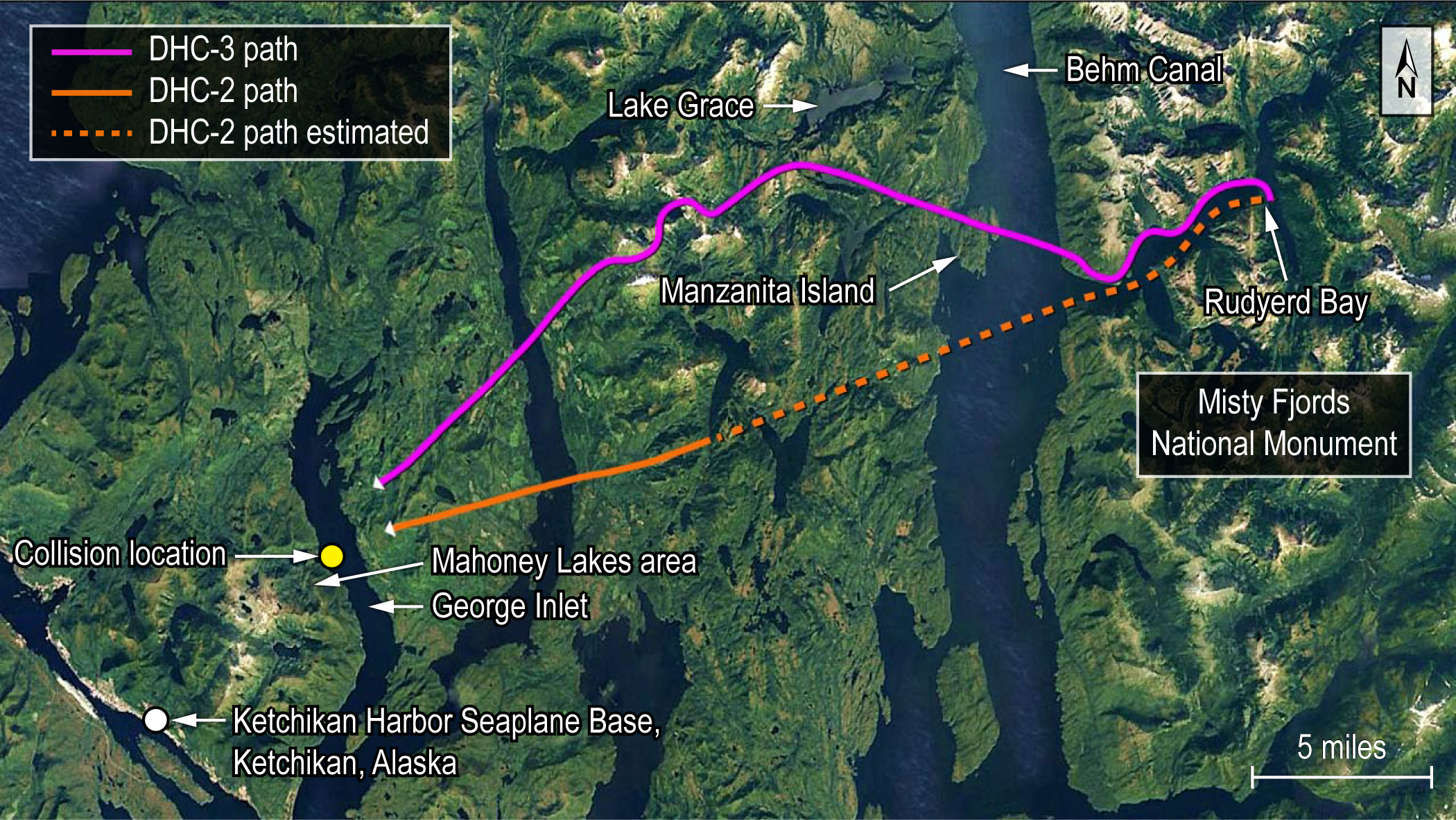 Investigators determined that the pilot of the DHC-2 would not have had the opportunity to see and avoid the DHC-3 because his view was obscured by the cockpit structure, right wing and a passenger in the copilot's seat. The lack of apparent motion of the DHC-2 when viewed from the DHC-3, and the obscuration of the DHC-2 by the window post for 11 seconds before the collision, made it difficult for the DHC-3 pilot to see the DHC-2 airplane.
Both airplanes' traffic display systems were equipped with ADS-B Out and In.
Although the traffic display system installed on the DHC-3 depicted aircraft in the area, it could not provide aural or visual alerts to warn of a potential collision. The pilot of the DHC-3 last recalled looking at his traffic display about four minutes before the accident and did not identify any collision threats. A traffic alerting feature previously available in the DHC-3 was disabled by a 2015 equipment upgrade.
Unlike the DHC-3, the pilot of the DHC-2 airplane had access to a traffic display system that could provide aural and visual alerts, but the DHC-2 pilot would not have received any such alerts because the DHC-3 airplane was not broadcasting required altitude information.
Requiring all Part 135 operators, as well as all air tour operators in high-traffic areas, to be equipped with collision avoidance technology that provides visual and aural alerts, were two of the five new recommendations made to the FAA. The NTSB also reiterated a safety recommendation to the FAA for the sixth time in five years. That recommendation asked the agency to require all Part 135 operators to establish safety management systems.